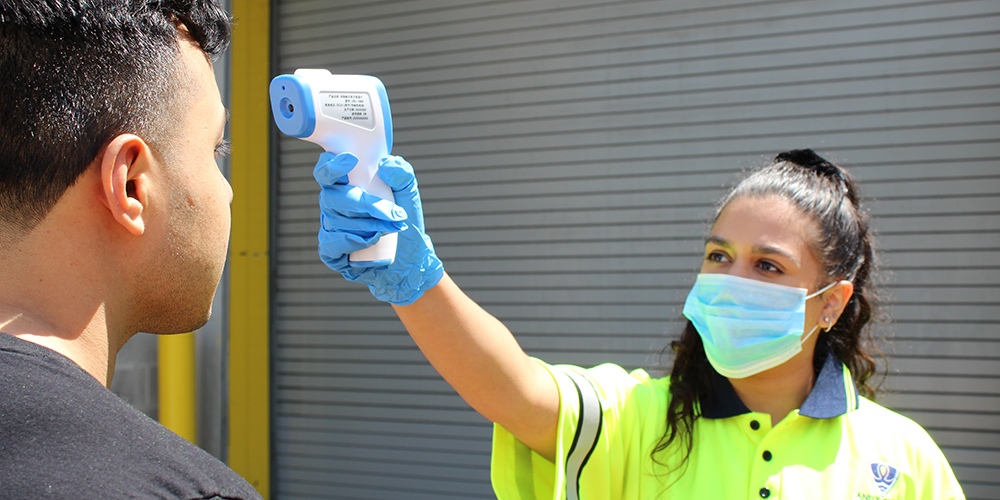 COVID-19 | Temperature Screening Service
REDUCE THE SPREAD OF COVID-19 VIRUS
Your workforce is your most valuable asset. Though work sites have been made safer through stricter standards being enforced by the Governments and the World Health Organization (WHO) plus the practicing of Social Distancing and the use of advanced personal protection equipment, the threat of workplace exposure is almost unavoidable.
The first step in containing the risk of spread of COVID-19 is to have additional safety precautions and necessary oversight plans in place so individuals can be protected. Andy Frain Services can help you to increase your level of preparedness to manage and care for new cases of COVID-19.
Onsite Temperature Monitoring
At Andy Frain Services well being is what drives us to be one of the safest companies in the world. We want to share this with you by providing you a simple but very effective temperature screening service. To mitigate risks of contamination and COVID-19 being spread on your site it's important to recognize the early symptoms of the virus, one of the main indicators for this is an elevated body temperature.
Our Qualified Screeners are trained to perform accurate measurements using infrared non-contact thermometers and will strictly follow up on your safety protocol.
Social distance supervisors.
Products to protect workers remotely with video surveillance
Push to talk communication equipment
Atmosphere monitoring
Breathing air systems
Entry barriers
.. and much more